I remember when Nerd culture was the last safe haven of society where new ideas & people from different walks of life were welcomed with open arms. It seems those days are now gone. Thanks Nerds…….. for nothing! For becoming just like everyone else in "society". Your fall from grace is truly sad to see.
From the pervs that sexually harass Cosplayers at Cons, making them feel unsafe in the one place they should be most secure. When you do this, you become worse than the bullies that kicked your ass & shoved you in lockers. They have a great passion for their hobbies & express it in one of the most creative ways possible. They spend a lot of time & money because they enjoy it so much. I love going to conventions & seeing some of my favorite characters come to life. Speaking to them about how the created their costumes & the progression they've made from their earlier works. Just like you, they come to enjoy the atmosphere of being around folks that share their passion. What they don't enjoy is being humiliated, harassed, mocked & assaulted. Guys, you should know better than to behave in such a manner. Would you want your sisters to be treated this way…..your daughters? Women are people, not property, treat them as such or you may once again find your ass kicked & shoved in a locker.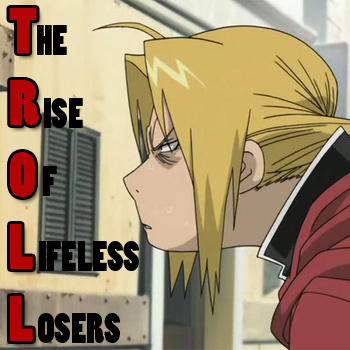 The trolls that seem to live only to shit on everyone else's parade. You don't stand for anything, you have no conviction. You're just a bunch of fucktards that think (for some asinine reason) that you're better than everyone else. You spend every waking moment on the internet injecting yourselves into discussions with snark comments thinking it makes you seem clever, it doesn't. It only proves that you're an attention whore & like most attention whores, you suffer from insecurity & lack social skills which = no friends (smh……..poor trolls). Maybe if you didn't spend everyday in your grandma's basement nooseturbating, you could actually go outside & make a friend.
The brats that cry foul over a storyline or creative team but continually spend their hard-earned dollars on "trash" that the don't even want to watch or read. Why are you doing this to yourselves? Do you like to be miserable? Are you only happy when you're complaining? I was guilty of this as well until I got the bright idea to only spend my money on things that I enjoy. Maybe you guys should try that, you'll have a more positive outlook on life, I assure you.
The bigots that spew hatred simply because a character's gender, race, religious background or sexual orientation isn't what "YOU" want it to be. You petition for their removal as if these fictional characters have caused you "REAL" pain. Do you not realize that your skewed sense of what society should be caused this world to go to war, twice! That battle caused people from all walks of life to unite for the betterment of the world around them & was the spark that ignited our culture….The Golden age. Without that, none of this would be here for us. Remember what brought you here, a passion for the hobbies that made you smile as a child. That sense of wonder that made you look at the world in a whole new way & broadened your imagination.
To the Gamers, Cosplayers, Comic, Anime, Manga & Cinema geeks around the globe, I urge you to look within yourselves & remember the moment that sparked your passion for this culture we love so much. Think about the 1st friend you made that shared that passion with you & how great it was to know that you were not alone. Being able to enjoy the things you love without being ostricized & how wonderful it made you feel. Those heated debates over which was better, Marvel/DC, Mario/Sonic, Akira/Fist of the Northstar, G.I. Joe/Transformers, those discussions would go for hours & brought us even closer. These are the things I miss about being a fan. I miss being that kid that memorized every Official Marvel Universe Handbook & DC Who's Who as if he was cramming for a mid-term. Playing Legend of Zelda for 14hrs straight on NES to the point where my hands locked in that position. Weekend marathons of Dragonball Z & trying to haggle back issue prices with the manager of my LCS. These are the experiences that made me who I am & I would hate to see the next generation miss out on that because of individuals who try kill the spirit of this culture. Please don't sit idly be as others try to steal our joy. Stand up for yourselves & take pride…….